Ultherapy is a non-surgical, non-invasive treatment that uses high intensity focused ultrasound energy from a device to cause very precise and specific deep tissue heating without disturbing the surface of the skin. As a result of this heating the tissues undergo 'remodelling' which leads to new collagen formation, shrinkage and firming, with tightening of the skin and deeper muscle layers. Ultherapy is the only FDA-cleared procedure to 'lift' skin on hard-to-treat areas using ultrasound and has now received CE approval.
What to expect from the Treatment?
Results will develop over the course of 2-3 months with some clients experiencing continued improvement for up to 6 months. Whilst the procedure will not be as drastic as surgical intervention it is an inviting alternative for those who are not ready for surgery.
Before and After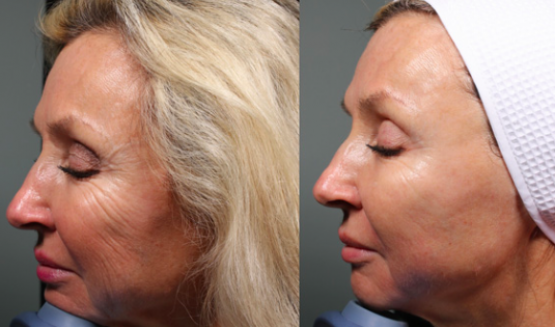 What is unique about the Ultherapy (HIFU) treatment?
Ultherapy (HIFU) can specifically target the deep foundation below the skin similar to that of cosmetic surgery without cutting or disrupting the surface of the skin.
Can Ultherapy (HIFU) replace a facelift?
Although 3D-skinmed is Uplifting it is not a facelift. The procedure is not as drastic as surgical intervention but it is an alternative for those who are not ready for surgery. There is also the positive of no downtime to the procedure.
What problem areas does Ultherapy (HIFU) target?
It can be used on the brow area, which can reduce excess skin on the eyelids, opening the eyes. It is also effective on loose skin on the neck area and can bring definition to the face and jaw.
How long until I see results?
Clients may witness some initial effect but the ultimate lifting and firming will take place over 2-3 months, as collagen is renewed and replaced with new stronger collagen. As this collagen building process continues, improvements can appear up to 6 months following a treatment.
How long do the Ultherapy (HIFU) results last?
The firming benefits achieved following the treatment should last for over 1 year, but the skin continues to age. Yearly touch up treatments are recommended to combat the ageing process.
How many treatments will I need?
Once a Year! Yes all done in one go! Obviously as the ageing process continues with time we recommend a yearly treatment to combat the signs of ageing and thus avoiding the need for surgical intervention.
Prices
Upper face (brow, eye and upper cheeks)
£500
Lower Face (lower cheeks, jowls and jawline, under chin)
£500